IdeaGist platform offers voting feature that helps in creating consensus among community members. If there is a voting round enabled, you will see a timer on your community dashboard.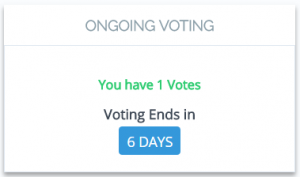 To vote for an idea, visit the idea page. On top of the idea page, you will see the idea metrics panel with your vote status:

If you click on the Vote counter, it will act as a toggle to vote or take your vote back. Once your  vote is counted, you will see the star turned into solid color instead of grey:

You will only see your own votes until the voting round is over.