Caitlin Marlotte, idea maker
IdeaGist 2017 Idea Makers: Caitlin Marlotte
IdeaGist is the world's largest virtual incubator for people with ideas. Here we highlight some of the idea makers and mentors involved in IdeaGist2017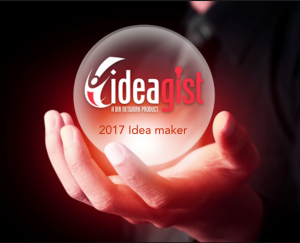 IDEA: Instruments in The Cloud
Idea owner: Caitlin Marlotte
Location: Minneapolis, MN
Age: 39
IdeaGist2017 link: https://ideagist2017.ideagist.com/#/dashboard/idea/44794
Summary of start-up idea: Instruments in the Cloud is an online giving platform that connects musical instrument donors directly with classrooms in need.|
Instruments in the Cloud is one of three core programs out of Vega Productions, a Minneapolis-based nonprofit dedicated to making music education accessible to all students.
What Caitlin tells us:
Caitlin leads Vega Productions, including the development of Instruments in the Cloud, one of Vega Productions' three core programs. 
"On the side, I write grant proposals and do foundation research for a very short list of nonprofit clients," she says. "In the next two-three years, we'll be increasing Instruments in the Cloud's reach and impact in communities around the country, so my short-term career plans center on that work.
"I have a 3-year-old daughter, Willa, who is the apple of my eye. I love spending time with her and being her mom," Caitlin says.  "I didn't think my interests would be violin and swim lessons, but that's what they are right now. Willa has a big influence on my reading list, as of late, and I'm looking forward to revisiting the Chronicles of Narnia with her (she's a bit young now, but soon!).
Caitlin is also learning to build and repair violins, violas, and cellos. In 2013 and 2014, she apprenticed with a local violin maker and built her own violin (which she now plays). Currently, she's trying to repair a small cello in her basement.
In 2005, Caitlin completed a MPA at University of Wisconsin-Madison with concentrations in social welfare policy and policy analysis.
Caitlin Marlotte IdeaGist 2017 Idea Maker