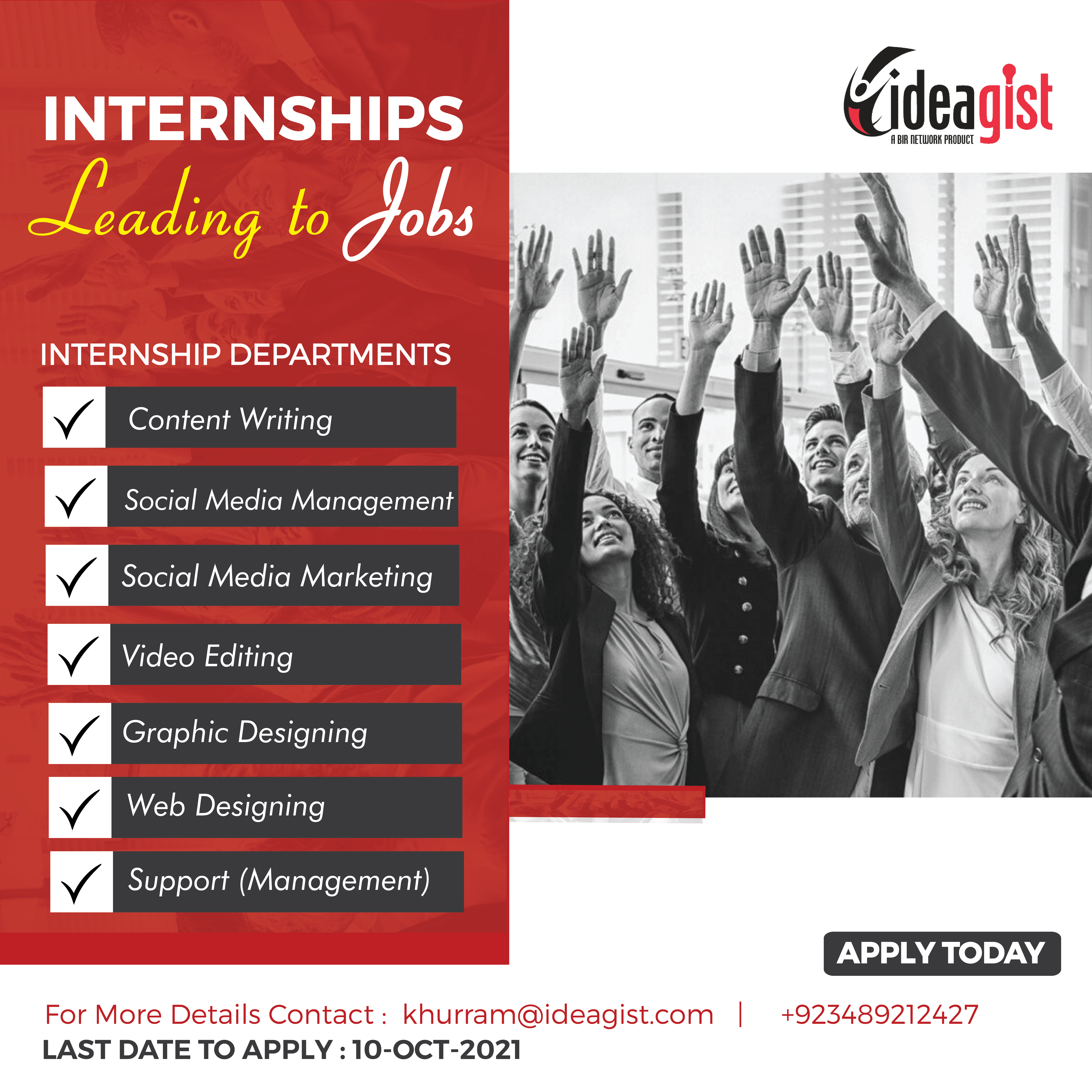 ,IdeaGist.com is starting the version 2.0 of its internship program based on our learning from last year's internship program. Many interns end up becoming an employee at IdeaGist. We are now starting the recruitment process once again.
Our goal is that every person that join our internship program and worked hard shall be rewarded by either getting a full time job or becoming an entrepreneur. If you can complete our 12 months program, you will not need to worry about the job anymore.
It will not be easy and warn you early on. We are looking for people that are self-directed, confident, and willing to work hard. IdeaGist is here to help Pakistan's youth in starting up their entrepreneurial careers. Therefore, everyone at IdeaGist is encouraged to start their own business. At IdeaGist, you will get all the support to become an entrepreneur.
The internship program is divided in three stages:
1. Basic Internship:
This is a three months period where you will be given a list of skills that you can develop. These skills will help you to be successful in any job. You will be free to decide which skills you would like to learn but to qualify for the next round, you will have achieve mastery in few of them. During this stage, you will get transportation and daily allowance if you need to travel for work. No stipend is offered during this stage. However, internship certificate will be delivered to door steps on successful completion of Internship.
 2. Advance Internship:
This a six months stage in which you will be joining part-time with responsibilities. You will be given freedom to do things that you like, think innovatively, and focus on results. During this stage, you will receive a stipend of PKR 15,000, plus internet, and TA/DA for travels, as and when needed.
3. Full-time Probation:
This is three months long period in which you will work full-time for specific positions with specific targets. During this time, you will receive a market competent salary per month with transportation allowance to come to the office as and when needed, and you will also get TA/DA if you need to travel for company's work.
During these three stages of your development, you will have get targets to learn entrepreneurship. You will have the opportunity to work with many talented overseas Pakistanis, and will be exposed to lot new business ideas. People that are interested in entrepreneurship as a career choice will be allowed to join as an entrepreneur-in-residence, provided that they have an innovative idea and can demonstrate the capacity to develop their idea.
Applications are now open for the following candidates:
– Final year students in Business, Marketing, Mass Communications, and Life Sciences.
– Recent graduates in any discipline.
Preference will be given to the following people:
– Graphics design, video editing, and animation knowledge
– Good written and oral communications skills in English
– Out of the box thinkers
– Self-directed and self-motivated
Don't miss this lifetime opportunity to start your career with a global leader that has customers in 193 countries, in an innovative environment that rewards entrepreneurial initiative. At IdeaGist you will get to work with highly motivated overseas Pakistanis and learn from them.
Eligibility Criteria:
1. Only students of 6th or 7th semesters are eligible
2. Fresh graduates (only for video editing and graphic designing)
3. Min. CGPA 3
4. Have stable Internet Connection
5. Access to laptop and Mobile
For Updates Contact:
Engr. Khurram Ali Shah
ASSISTANT Manager Operations , Ideagist
khurram@ideagist.com
+923489212427
REGISTRATIONS HAVE BEEN CLOSED